Affordable Dumpster Rental Service in Hahira, GA
Let the Veteran Owned and Operated staff at YellaBird Dumpsters assist you with managing the trash and clearing the debris for your job site or project in Hahira, GA. Our dump trailer dumpster rentals are reasonably priced and driveway-friendly making them ideal for contractors and residiential projects! No matter how big your job in Hahira, GA is—managing a foreclosure or revamping your landscaping—we are confident that our recommendations and assistance will contribute to the success and efficiency of your endeavor. By putting an emphasis on reasonable pricing, transparent communication, and reliable customer assistance that caters to the requirements of a variety of residential and commercial projects, we will provide exceptional service within and among the local community. Give our staff a call at (229) 230-3415 if you have any inquiries, or quickly rent a dump trailer in Hahira, GA by booking online.



Dumpster rental services in Hahira, Georgia offer an affordable and convenient way to dispose of large amounts of waste. From home cleanouts to construction and demolition projects, dumpster rental services provide a great solution for waste removal. When choosing a dumpster rental service, it is important to compare prices, services, and customer reviews to ensure you get the best deal and quality service.

When looking for a dumpster rental service in Hahira, Georgia, there are a few main things to consider. First, consider the size of the dumpster you need. The size of the dumpster is typically determined by the amount and type of debris you will be disposing of. To get an accurate estimate of the size needed, it is best to contact a local dumpster rental company, such as YellaBird Dumpster Rentals, and provide us with the details of your project. Then we will be able to better advise you on the size and type of dumpster that will best suit your needs.

Once you know the size of the dumpster you need, it is important to compare prices and services. Different companies offer different pricing structures, so it is important to compare prices between several services. Additionally, some services offer flat-rate pricing while others charge per-pound or per-bag. It is important to understand the pricing structure of each service in order to get the best deal.

In addition to comparing prices, it is important to read customer reviews to get an idea of the quality of service each provider offers. Reading reviews will help you better understand the quality of customer service, punctuality, and the overall experience of each service. It is also important to read the terms and conditions of each service to ensure you understand what is and isn't included in the rental.

Once you have chosen the right dumpster rental service for your project, it is important to follow the instructions of the company for proper disposal of waste. Be sure to follow all local laws regarding proper waste disposal and always dispose of waste responsibly. When the job is finished, be sure to contact the company for pickup and removal of the dumpster.

Dumpster rentals in Hahira, Georgia offer a great solution for large projects. By doing research and comparing prices and services, you can find the best deal and ensure you get the best quality service. With the right dumpster rental service, you can have peace of mind knowing that your project will be completed efficiently and with minimal hassle.
Dumpsters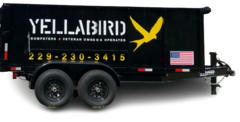 We take just about everything
Some examples of the junk we haul away include:
Garbage Removal


Foreclosure Clean Outs

Construction Waste Removal


Yard Waste Removal



Trash Removal
E-Waste Removal



Furniture Removal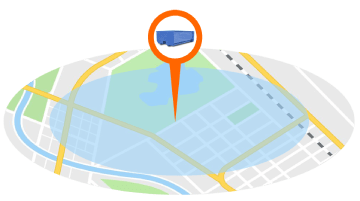 YellaBird Dumpster Rentals Service Area
In Hahira, GA and nearby areas, we offer flexible and convenient delivery. Give us a call at (229) 230-3415 to find out how we can make your life simpler with cost-effective and dependable dumpster rentals now. Our team can often accommodate requests outside of our typical service region. Click below to see our service area that covers Hahira, GA & many nearby areas.
View Service Area