Efficient and Reliable Junk Removal Services in Tifton, Georgia
Junk removal services have become an essential part of maintaining a clean and clutter-free environment in Tifton, Georgia. Whether it's old furniture, appliances, construction debris, or general household waste, the veteran-led team members at YellaBird DUmpster Rentals and Junk Removal are here to help. With our efficient and reliable services, we will ensure that your junk is disposed of properly, saving you time and effort.

Why Hire a Professional Junk Removal Service?
You might be wondering, why should I hire a professional junk removal service when I can do it myself? Well, there are several compelling reasons to leave the job to the experts. Firstly, junk removal can be physically demanding and time-consuming. It involves heavy lifting, sorting, and proper disposal, which can put a strain on your body and take up valuable time. By hiring a professional junk removal service in Tifton, Georgia, you can save yourself from the hassle and potential injuries.
Secondly, professional junk removal services have the necessary equipment and expertise to handle all types of junk and debris. They come equipped with trucks, tools, and trained personnel who know how to efficiently remove and dispose of your unwanted items. This ensures that the job is done safely and effectively, without causing any damage to your property or the environment.

Benefits of Local Junk Removal Services
YellaBird Dumpster Rentals & Junk Removal services in Tifton, Georgia offer a range of waste management solutions that make us the preferred choice for many homeowners and businesses. Firstly, we provide convenience and peace of mind. Instead of spending your weekends or precious free time clearing out your junk, you can simply schedule an appointment with a junk removal service and let them take care of everything. This gives you more time to focus on other important tasks or enjoy leisure activities with your loved ones.
Furthermore, efficient junk removal services help improve the aesthetics and functionality of your space. Whether it's clearing out a cluttered garage, a construction site, or an office space, removing unwanted junk creates a clean and organized environment. This not only enhances the overall appearance but also increases the productivity and efficiency of the space.


Common Types of Junk and Debris in Tifton, Georgia
In Tifton, Georgia, there are several common types of junk and debris that people often need to get rid of. These include old furniture, appliances, electronics, mattresses, yard waste, construction debris, and general household rubbish. Furniture and appliances, such as sofas, tables, refrigerators, and washing machines, are often replaced or upgraded, leaving the old ones to be disposed of. Electronics, including televisions, computers, and printers, become outdated and need to be properly recycled to prevent hazardous materials from entering the environment.
Yard waste, such as tree branches, leaves, and grass clippings, accumulates seasonally and requires proper disposal. Construction debris, such as concrete, wood, and rubble, is generated during renovation or demolition projects and needs to be cleared out to ensure a safe and clean workspace. General household rubbish, including packaging materials, old clothes, and miscellaneous items, can accumulate over time and clutter your living space. YellaBird junk removal services in Tifton, Georgia is equipped to handle all these types of junk and debris efficiently and responsibly.

The Process of Junk Removal in Tifton, Georgia
The process of junk removal in Tifton, Georgia typically involves the following steps:

Assessment and estimation: When you contact a junk removal service, they will schedule a visit to assess the amount and type of junk you need to be removed. Based on this assessment, they will provide you with an estimate of the cost and timeframe for the job.

Scheduling and pickup: Once you agree to the terms and price, you can schedule a convenient date and time for the junk removal team to come to your location. They will arrive with their trucks and equipment to safely and efficiently remove the junk from your property.

Proper disposal: The non-recyclable items will be disposed of according to local regulations and guidelines. Professional junk removal services in Tifton, Georgia prioritize responsible disposal methods to minimize the impact on the environment.

Clean-up and final inspection: Once the junk has been removed and properly disposed of, the junk removal team will clean up the area to ensure it is left in a clean and tidy condition. A final inspection will be conducted to ensure all the junk has been removed to your satisfaction.

Choosing the Best Junk Removal Service in Tifton, Georgia
When it comes to choosing the right junk removal service in Tifton, Georgia, there are several factors to consider. Firstly, ensure that the company is licensed and insured. This provides you with protection in case of any accidents or damages during the removal process. Additionally, look for a company that has a good reputation and positive reviews from previous customers. This indicates their reliability and professionalism.
Furthermore, consider the range of services offered by the junk removal service. Some companies specialize in specific types of junk removal, such as furniture removal or construction debris removal, while others offer a comprehensive range of services. Assess your specific needs and choose a company that can meet them effectively.
Lastly, consider the pricing and payment options. Obtain quotes from multiple junk removal services in Tifton, Georgia and compare them to ensure you are getting a fair and competitive price. Additionally, check if they offer flexible payment options, such as cash, credit card, or online payments, to suit your preferences.

Cost of Junk Removal in Tifton, Georgia
The cost of junk removal services in Tifton, Georgia can vary depending on several factors. These include the volume and type of junk, the distance to the disposal facility, and any additional services required, such as heavy lifting or sorting. Generally, junk removal services charge based on the amount of space your junk occupies in their truck or the total weight of the junk.

Why Hire YellaBird Dumpster Rentals and Junk Removal in Tifton, GA?
Efficient and reliable junk removal services in Tifton, Georgia are a valuable resource for homeowners and businesses looking to declutter and maintain a clean environment. By hiring professionals, you can save time, effort, and ensure that your junk is disposed of properly. The benefits of these services, such as convenience, sustainability, and improved aesthetics, make them a worthwhile investment.
When choosing a junk removal service in Tifton, Georgia, consider factors like reputation, range of services, and pricing. Obtain multiple estimates and read testimonials and reviews to make an informed decision. By selecting the right junk removal service, you can enjoy a hassle-free experience and a clutter-free space.
So, if you're in need of efficient and reliable junk removal services in Tifton, Georgia, look no further than YellaBird. Contact YellaBird today for a free junk removal estimate and let their professional team take care of your junk removal needs.
Dumpsters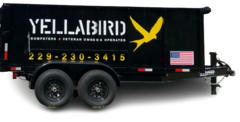 We take just about everything
Some examples of the junk we haul away include:
Garbage Removal


Foreclosure Clean Outs


Mattresses

Construction Waste Removal


Yard Waste Removal



Trash Removal
E-Waste Removal



Furniture Removal

Tires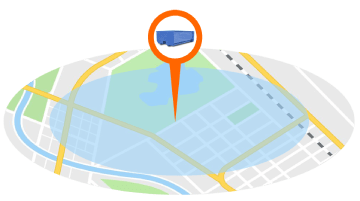 YellaBird Dumpster Rentals Service Area
In Tifton, GA and nearby areas, we offer flexible and convenient junk removal services. Give us a call at (229) 230-3415 to find out how we can make your life simpler with fast and efficient junk removal now. Our team can often accommodate requests outside of our typical service region. Click below to see our service area that covers Tifton, GA & many nearby areas.
View Service Area